1
2

 Program Contacts

April Vince MSSA, LSW
Program Manager
216.201.2000 ext 1538
avince@ccbh.net
Becky Karns MPH
Supervisor
216.201.2000 ext 1607
bkarns@ccbh.net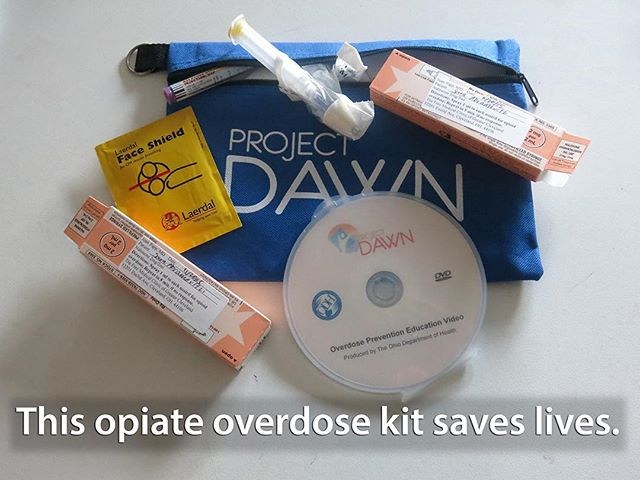 Project DAWN (Deaths Avoided with Naloxone) is an opioid overdose education and naloxone distribution (OEND) program.
Its purpose is to save lives by providing Naloxone to individuals and families of those who are at-risk for opioid overdose.
Cuyahoga County's Project DAWN was launched on March 1, 2013.  YOU CAN GET A FREE KIT MAILED TO YOU. CLICK HERE.
Training
Those who take part in the program learn about:
The risk factors for opioid overdose
Responding to an opioid overdose by calling 911
Giving rescue breaths
Administering nasal Naloxone
Participants are given free Naloxone kits containing Naloxone Hydrochloride medication. The training will teach you how and when to use Naloxone.
You can receive the training if:
You or someone you know is at-risk for opioid overdose, whether in recovery for opioid use disorder or actively using opioids
You may find yourself in a position to help someone who is at-risk of opioid overdose
Walk-in Clinics
Cuyahoga County MetroHealth Project DAWN has four free community walk-in clinics that are open to everyone, regardless of what county you live in.
Please click here for Project DAWN (Naloxone training sites) through MetroHealth. Project DAWN in Cuyahoga County is funded by the MetroHealth System, the Ohio Department of Health, the Cuyahoga County Executive's Office, and the Alcohol Drug and Mental Health Services Board of Cuyahoga County.

12201 Euclid Avenue, Cleveland
216.721.4010/www.circlehealthservices.org
Walk-in hours: Tuesday and Thursday 11 p.m. – 3 p.m.
*Click here for a list of all Project DAWN sites throughout Ohio.
Resources & Links
MetroHealth's Office of Opioid Safety
Project DAWN Quick Reference Guide
Ohio Department of Health – Project DAWN