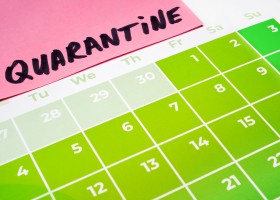 CDC shortens recommended isolation and quarantine period for those who are asymptomatic
December 28, 2021 – CDC has shortened the recommended isolation time for people with COVID-19 who are asymptomatic, from 10 days to five days, followed by five days of wearing a mask when around others. If the positive person cannot wear a mask, then they should stay home for the second five-day period.
Use the CDC quarantine and isolation calculator to see how long you should stay home
Regardless of the quarantine period length, people should continue to monitor their symptoms for 14 days.
Anyone who would have symptoms in the 14 days would still be considered to be a probable case and would need to follow isolation guidance.
Guidance for those who are fully-vaccinated
Definition of fully-vaccinated – this means that two weeks or more have passed since receiving the second dose in a two-dose series (Moderna and Pfizer) or two weeks or more have passed since receiving one dose of a single-dose vaccine (Janssen/Johnson & Johnson)
Fully-vaccinated persons with an exposure to someone with suspected or confirmed COVID-19 are advised to:
Be tested 5-7 days after exposure
Wear a mask in public indoor settings for 14 days or until they receive a negative test result.
Monitor for symptoms of COVID-19 for 14 days following the exposure
Follow recommended isolation protocols if they develop symptoms of COVID-19
However, they are not required to quarantine if they meet the following criteria:
They are fully-vaccinated with a vaccine currently authorized for emergency use by the U.S. Food and Drug Administration or the World Health Organization
Have remained asymptomatic since the current COVID-19 exposure
Resources & Links
Centers for Disease Control Quarantine and Isolation Information
Ohio Department of Health Covid-19 Quarantine Guidance – updated 1.26.22